Information about allergic reactions caused by tattoo ink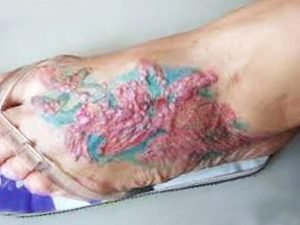 If you are planning to get a tattoo, you should keep in mind the occurrence of allergic reactions that can be provoked by tattoo ink. Though these side effects don't happen very often, you should know that some people are allergic to heavy metals from pigments of ink. For example, the most "problematic" color is red. So to avoid disappointments in the future, it's better to have a patch testing before making the tattoo.
Components of Tattoo Ink
The two basic elements of any tattoo ink are pigment and carrier. Pigments are used to give the color and can contain such ingredients as iron and iron oxides, mercury, nickel, zinc, cadmium, titanium, plastics and others. These are the most common materials to cause allergy and undesirable reactions. The functions of the carrier are to keep the dye in the suspension and to deliver it into the dermis. At the same time, it has anti-viral and anti-bacterial features. For this purpose the manufacturers of ink use water, alcohol, propylene glycol, methanol, witch hazel and glycerin. These essences usually don't cause any reactions.
Reactions from Colors
As we know from the history of art, dyes can be toxic. Inks are steadily improving in their quality and safety and the amount of incidence of allergy and side effects decreased a lot during the latest years. Still, any color suspense is a mix of chemicals, which often contains copper, iron, nickel, cadmium and other elements of the periodic table. Small amount of people are allergic to metals, so they can face a problem after the tattoo process. As it was said before, red is the most "dangerous" color, as it often contains mercury. According to statistics, now between 1 and 5 percent of people all over the world are allergic to this element. Another example is yellow color. It is often made from cadmium, which can be a reason of eczematous reactions within the picture and surrounding areas. The same story is with greens, which contain chromium. Blue dye often contains cobalt, which can bring to hypersensitivity reactions and uveitis in some cases. Purple and violet pigments can include manganese and may become a reason tattoo granulomas. Some other problems may occur during the aftercare process from healing products. All described cases are very rare, but it's better to put safety first. Ask your tattoo master to test the ink on your skin and wait for two weeks. If you don't have any burning and stinging allergic effects, you are safe to get the tattoo.
Problems you can face from Tattoo Ink
The most common of the variety of possible undesirable reactions is tattoo granuloma. This happens when the cells of your body consider, that the ink shouldn't be there and generate response of your immune system, and it looks like firm localized swelling in the tattoo areas. Another side effect is eczematous, which appear as a rash. Most often it is caused by the mentioned above mercury. These problems are normally successfully treated using topical steroids.